Cancún, typically synonymous with pristine beaches, all-inclusive resorts, and thrilling nightlife, has a secret wonder woven amidst its bustling streets — a vivid tapestry of street art. A journey through Downtown Cancún offers a different kind of sensory experience, where urban walls speak volumes, narrating tales of the city's rich past, present aspirations, and dreams for the future.
History meets modernity- Cancun street art
Historically, the art of the Mayans adorned temples, pottery, and manuscripts, telling tales of their gods, daily life, and celestial events. This intrinsic value of art to convey stories has continued in a modern form. Today, local and international artists use Cancún's walls as their canvas, linking ancient Mayan tales with contemporary themes, showcasing a mix of the city's roots and its global influences.
The street art of Cancún is not just about aesthetic appeal; it's a reflection of society. Artists have used their work to shed light on global issues such as climate change, human rights, and cultural preservation. These murals provoke thought, inspire change, and provide an essential platform for voices that often go unheard.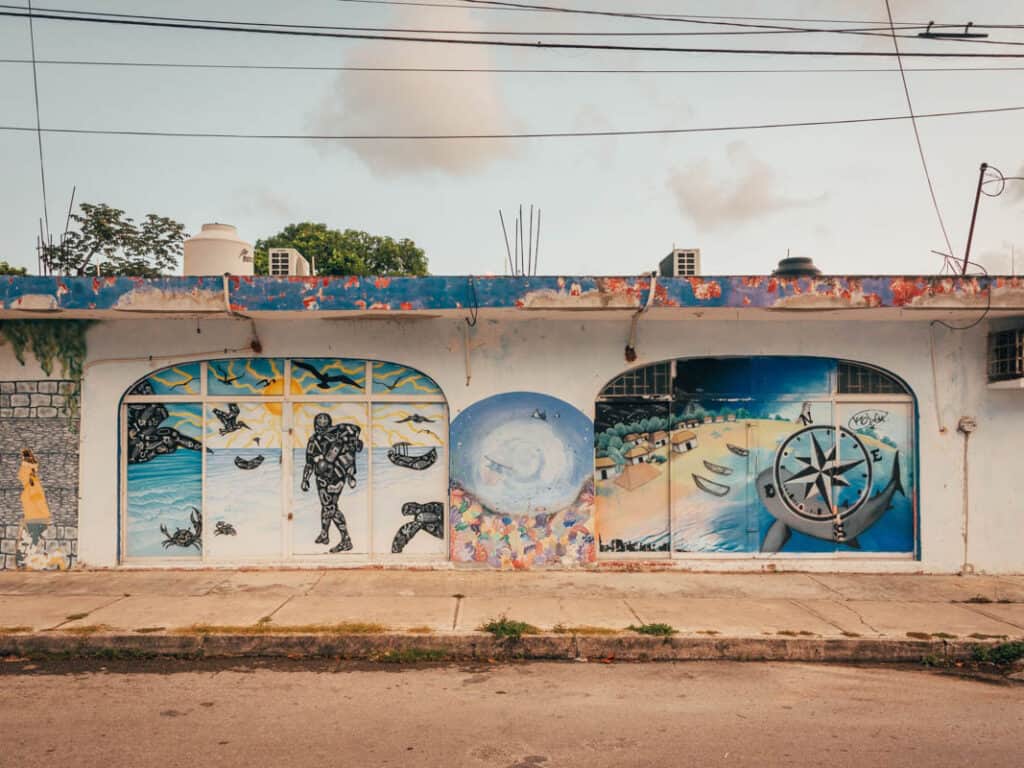 A Walking Tour of Cancún's Street Art
Venturing out of the Hotel Zone and stepping into Downtown Cancún, you find yourself amid a visual feast. Each corner turned reveals another mural, each more mesmerizing than the last. Some artworks stretch several stories high, looming over the streets, demanding attention and reverence.
One such compelling piece depicts a Mayan warrior, juxtaposed with modern symbols, challenging viewers to find the harmony between past traditions and present advancements. Another portrays the vibrant marine life of Cancún's waters, reminding locals and visitors of nature's beauty and the responsibility to protect it.
A common motif in many artworks is the representation of powerful, resilient women, both from history and folklore, symbolizing strength, beauty, and hope. These women, painted with vibrant colors, often have a gaze that's fixed on the horizon, perhaps hinting at a brighter, more equitable future.
International Meets Local - The Collaboration
Cancun street art scene is not limited to local talent. Cancún has hosted international artists, drawn to the city for its cultural richness and the opportunity to contribute to its urban gallery. This amalgamation of local and global perspectives has resulted in a diverse range of styles and narratives.
Often, visiting artists collaborate with local talents, leading to a fusion of techniques and ideas. These collaborations not only enhance the artistic richness of the city but also foster a sense of global community and shared human experience.
Impact on the Community
The surge of street art has reshaped the urban landscape of Cancún. What were once forgotten, drab walls are now vibrant masterpieces that instill pride within the community. They've transformed mundane daily commutes into immersive artistic experiences, making art accessible to everyone, regardless of their socioeconomic status.
For local businesses, the murals have become an attraction, drawing both tourists and locals. The colorful streets are now bustling hubs of activity, with cafes, shops, and markets benefiting from the foot traffic.
Furthermore, the street art has provided an opportunity for local youths. Several initiatives and workshops teach the young generation about art, offering them a constructive outlet for self-expression and a way to contribute positively to their community.
The street art of Cancún is a testament to the city's evolving identity. It's a harmonious blend of its rich historical roots with its contemporary aspirations. While the azure waters and sandy beaches of Cancún remain its primary allure for many, the city's vibrant streets offer a depth of experience that's unparalleled. For those willing to venture beyond the typical tourist paths, Cancún promises a journey through a living gallery, where every wall has a story to tell.